As I mentioned in my previous post about Gatlinburg, its tourist shops specialize in t-shirts of all sorts. Two big themes are the wearer's love of the United States of America, and the wearer's love of Jesus. It seems that love really is best expressed in t-shirt form.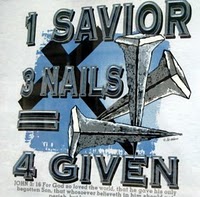 Jesus math!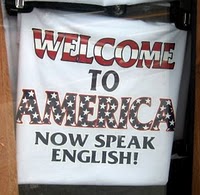 I think what they meant to say is "Welcome to America, a glorious melting pot which welcomes and celebrates all cultures". It just came out wrong.
It's air brushed. It's an eagle with a tattoo. What's not to love?
I bet Jesus would be quite tickled by this shirt, don't you think? Actually this Reece's-Jesus shirt was featured in the horror movie documentary Jesus Camp. I'm sure it's a hot seller.
Whew, so glad to hear that someone over here has experience with this sort of thing.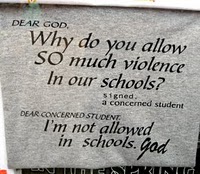 Oh, that God – always with the snappy come-backs.
I need someone to make me a t-shirt which expresses my love of kitschy t-shirts.
See also: One last Gatlinburg t-shirt post