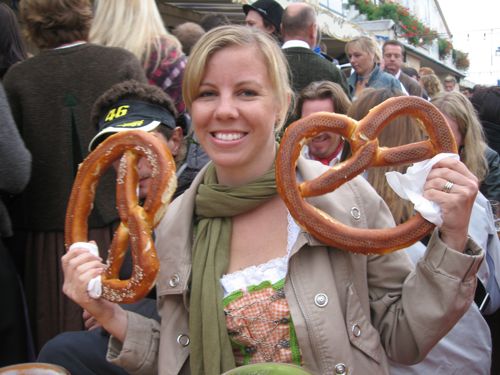 If there's one thing you don't see very often at Oktoberfest, it's a vegetable.
Navigating the menu at an Oktoberfest tent is not always easy for vegetarians. In here, a plate of sliced-up sausage qualifies as a salad. But even at those tents named after the animal they are best at cooking, one can find at least a couple of meatless dishes. Bavarian vegetarian food is heavy, creamy, cheesy, and infinitely starchy: actually, not such bad attributes for a meal that's accompanying many liters of beer. Now that you've found a seat in one of the tents, here are some of the vegetarian dishes you are most likely to find on the menu:
Käsespätzle: As a vegetarian living in Munich, I have eaten more käsespätzle than you can shake a stick at. This Bavarian version of macaroni and cheese (with fried onions on top) can range from magically delicious to heavy as a rock. Actually, usually the first several bites are magically delicious, and the last several are the rock-like ones. The best Oktoberfest käsespatzle I've had was at the small tent Heinz Wurst- und Hühnerbraterei.
Rahmschwammerl: this is basically creamed mushrooms with a big German dumpling or two. Not my favorite dish, but it is vegetarian.
Pasta of some sort: this will be horribly overcooked, but depending on how many beers you've had, you might not care.
Obatzda/Obatzder: this creamy Bavarian cheese spread tastes delicious on pretzels.
Potato salad: the Bavarian version is mayo-less, and therefore possibly your lightest option. This also might be the only vegan food available.
Side salad: Always swimming in a pool of dressing so deep you can drink it.
Brezn (pretzel): You can order these from your waitress, or buy them off the vendors wandering the aisles of the tent. Sometimes you'll score one fresh out of the oven, and it will be truly delicious.
Kaiserschmarrn: Technically a dessert, this dish of chopped-up sweet pancakes is usually big enough to be filling.
Sometimes there's also a cheese plate available. Personally, my favorite vegetarian Oktoberfest meal is found at, of all places, the Ochsenbraterei ("Ox roaster") tent. Their Gemüseteller (vegetable plate) contains many different vegetables, all prepared in relatively tasty ways.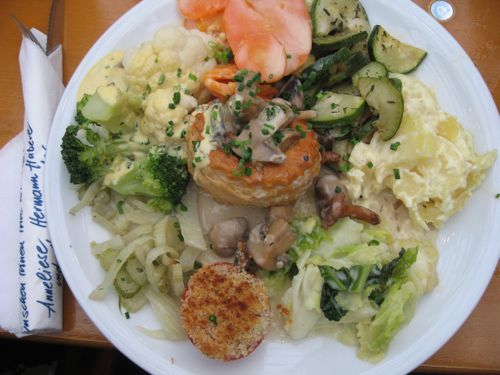 The two fancy tents, the Weinzelt and Käfer, offer a few different vegetarian items each, but honestly they're not all that much better than the dishes you get in the less pricey tents. They just don't seem to put too much effort into the vegetarian stuff. Still, these offerings can make for a nice break from käsespatzle if you're spending multiple days at the wiesn. The Weinzelt especially excels at menu variety.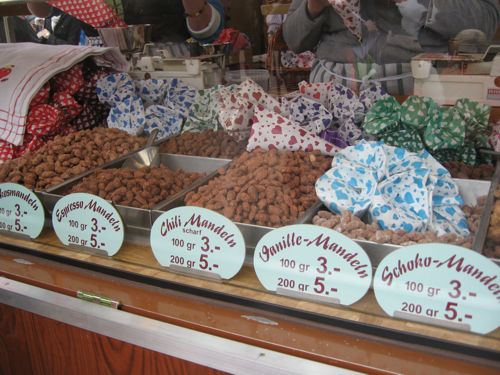 Outside of the tents, there's plenty of carnival food to be had. Stands selling cones of tasty candied nuts are everywhere, offering up the only non-cheese vegetarian protein source for miles. I like the chili almonds (Chili Mandeln). Sandwich stands usually have at least one boring cheese-on-a-roll option. Some other stands just sell hunks of cheese. If you can find them, dark-chocolate-covered chili strawberries on a stick are one of my favorite Oktoberfest treats. Must get a good photo of them this year.
What's your favorite Oktoberfest food?