If I were to start out by telling you that both of my walking tours of Copenhagen involved close encounters with drug dealers, you might get the wrong impression of the city. So instead I'll lead with this pig on a car: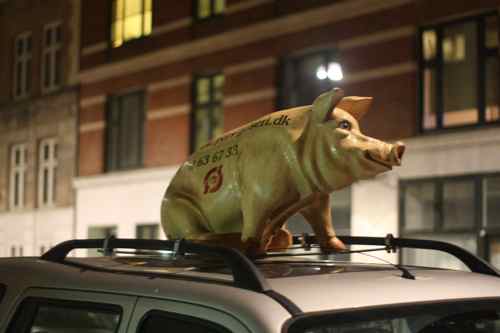 One of the best parts of TBEX was the tours of Copenhagen. The first afternoon I got an insider's peak at Christiania; the second day's tour took me to Nørrebro, billed as Copenhagen's emerging hip and trendy neighborhood. Our tour started at a large cemetery which contains the grave of Hans Christian Andersen (not that this made up for the fact that the Little Mermaid was on vacation in China during my visit).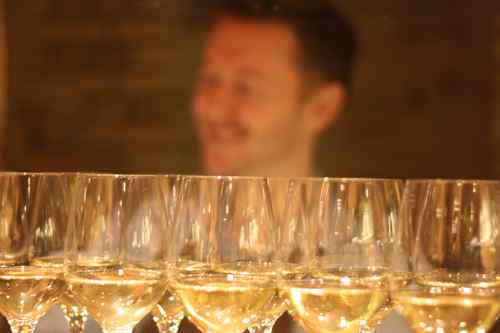 From there we wound our way through the streets, rather well-maintained and uniform for a neighborhood that supposedly has a little grit to it. At our first stop, the relatively new restaurant Relæ, we were greeted with white wine and crudités. The creative, vegetarian-friendly menu convinced me that my next trip to Copenhagen needs to include a reservation at this place (reservations are pretty much required at Relæ, but more spontaneous types could try Manfred's across the street).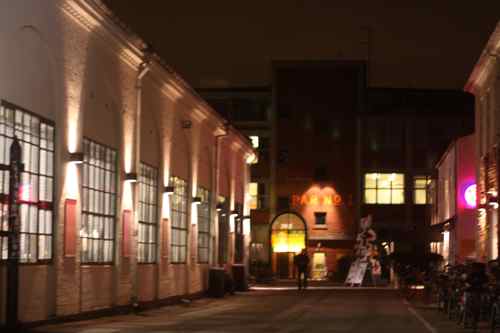 Next stop was The Coffee Collective, a small coffee shop which has won boatloads of awards for things like "cupping". I have to admit I was a little distracted* at this point, so I don't remember much about it. Or perhaps my memory is just insisting that I fast-forward to Kiin Kiin, the highlight of the evening. I have encountered relatively few Michelin-starred restaurants in my life, but I must begrudgingly admit that those few have been painfully enjoyable (Exhibit A, Exhibit B). Kiin Kiin was no exception. We were greeted with pink champagne and a flight of achingly delicious Thai appetizers. I never wanted to leave. It's possible I was carried away kicking and screaming.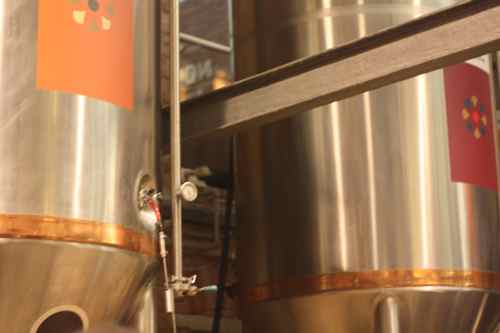 Our tour's terminus was Nørrebro Bryghus, where I could drown my sorrows in delicious microbrews. This brewery was actually modeled after an American microbrewery, which was delightful for two reasons: firstly, it was refreshing to hear a European say "American beer" in a sentence that didn't also contain the word "swill"; secondly, I actually miss American microbrews, living as I do in a land where beer is wonderful but very narrowly-defined. The Nørrebro Bryghus beers were quite tasty and diverse.
—-
* In case you're still wondering about our Nørrebro drug-dealer encounter, it went thusly: outside of Relæ, one of the bloggers on our tour had her camera snatched away by a dealer who was concerned that she had photographed him (she had been photographing the exterior of the restaurant). Less than ten minutes later, the camera was returned to her, thanks to the diplomatic intervention of both the restaurant owner and our tour guide. This tidbit does not excuse the fact that my photos from this tour are distinctly lacking. I'll do better next time.