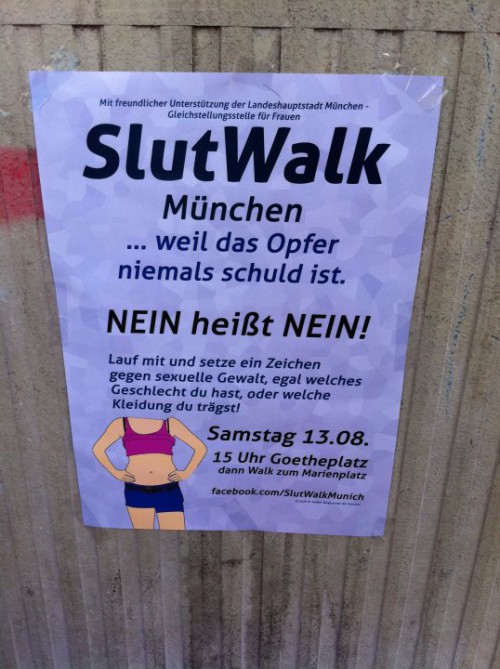 Alas, the first Munich SlutWalk took place on Saturday and I missed it. 
When I first saw the poster (spotted by my friend Kate), my initial thought was, "I do not think it means what you think it means." But as it turns out, they do know what it means, and they are using it ironically (according to one interview, anyway). The walk is meant as a demonstration against sexual violence, regardless of what clothing one is wearing. "No means no!" declares the poster. OK, I admit it: the message is a good one. Your slutty little hearts are clearly in the right place.
Munich isn't the only place holding a SlutWalk; several other cities around Germany are also participating. And, as it turns out, the SlutWalk has its origins in Canada of all places. So I can't even blame the Germans for this creative use of English. I apologize for ever suspecting you, Germany. I'll just shut up now and go back to reading this copy of AssCompact magazine.
At the end of the day it seems to me that SlutWalk is mostly an excuse for women to put on their trashiest outfit and parade around for a day. We have a similar thing in the US: it's called Halloween.