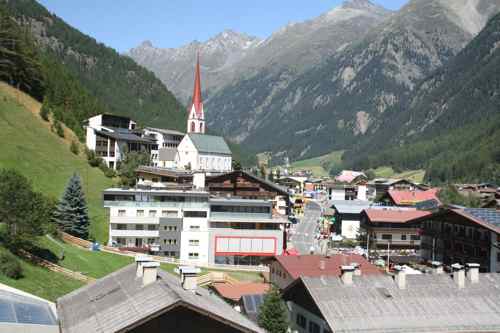 Our first stop in the Ötztal was the recently-rebuilt Hotel Bergland in the mountain town of Sölden. Situated as it is in the Alps, it's the kind of place that is full of skiers in the winter and hikers and bikers in the summer. After being welcomed with lunch in their dining room, we went on a tour of the hotel and then ended up at the top-floor spa for an afternoon of deep relaxation.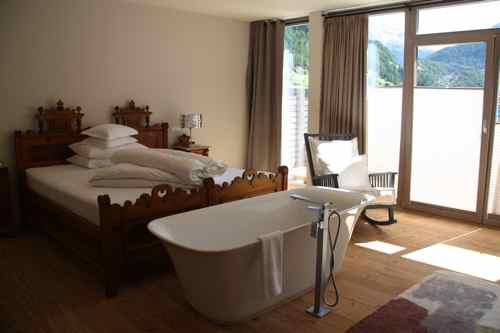 Many of the hotel rooms feature bathtubs, though not where you'd expect to find them.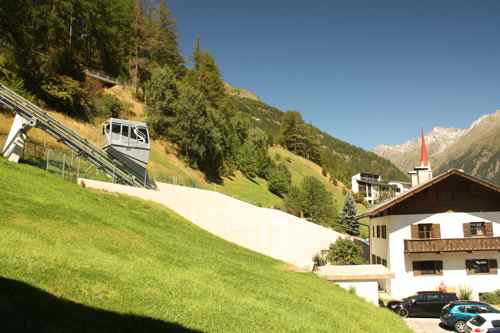 Hotel Bergland, it was pointed out, is right next to this very snazzy outdoor elevator, which takes one from the main street of Sölden right to the ski lift. Hey, if it means less walking in ski boots, I'm all for it.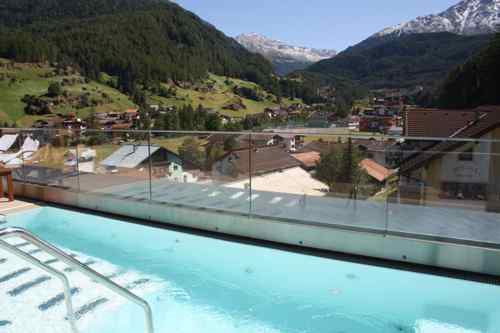 But it was the view from the rooftop hot tub that really had me. The indoor pool featured a similarly stunning view, and a fireplace. Also worth a note, especially for my American audience: Hotel Bergland has the only non-naked sauna I've ever seen in Europe. (I'm sure there are plenty of others, I just haven't seen them.) They call it a 'textile sauna', and it overlooks the pool. There's an extensive naked sauna area, too, but I spent all of my time swimming, hot-tubbing, and getting an awfully deep massage. Even my textiles remained unsaunaed. Maybe next time.
And this was only the first stop on our Ötztal relaxation trip. Up next: the Aqua Dome. (Which in my head is said in the voice of one of those booming deep-voiced announcers for fake wrestling. "Sunday Sunday Sunday! It's time for the smashdown in the Aqua Dome! Poseidon versus Neptune! Live!" They say things like that, don't they?)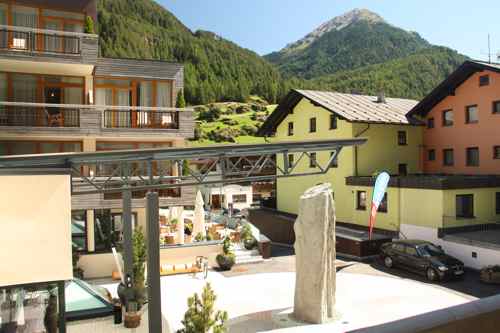 [Disclosure: This entire trip to the Ötz Valley was free as part of a blogging conference. All writing, opinions, and photographs are my own.]