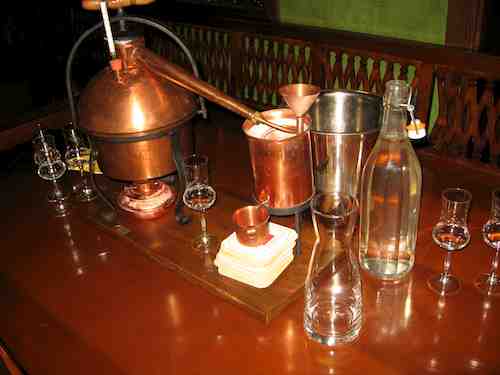 One of the destinations on my recent trip to Burgenland, Austria, was the Lagler hotel and distillery. Most of our brief time there involved eating and sleeping, but we did manage to squeeze in a couple of other fun activities, too, such as a morning swim in their adorable fake-grotto pool. But our visit was mostly about the schnaps.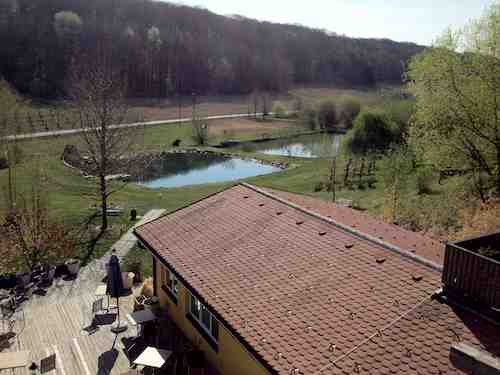 I was smitten with the various types of fruit schnaps that we tried during a post-dinner tasting. "Schnaps" means something completely different in Europe than "schnapps" does in the US (where the definition is something like "syrupy-sweet artificially-peach-flavored liquid used to get high school girls drunk"). A true schnaps is a distillate with no sugar or flavors added. It's clear, strong, and has a slight aroma of the fruit or plants from which it is made. It can be most delicious, especially the pear and berry-based varieties. Lagler also makes some whiskies that were unlike any other whisky I've tried before, and a couple of liquors for those who prefer the sweet stuff.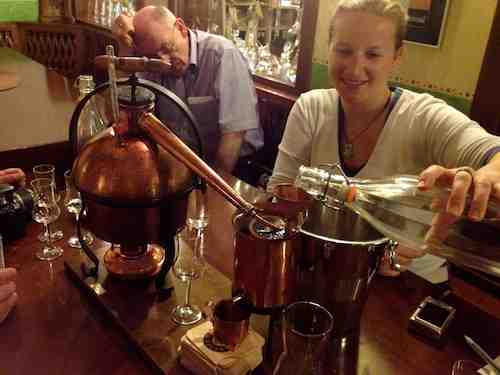 The highlight of our time at Lagler was making sour cherry schnaps in a tabletop distillery, which four of us ran under the watchful eye of Frau Lagler, Senior. Two of us had the task of monitoring the temperature so as to know whether the liquid dripping out was waste or tasty schnaps, while the other two were in charge of keeping the cooling mechanism (where the vapors were condensed back into liquid) appropriately cool. We accomplished this by constantly pouring cold water into it. Luckily this part is automated in distilleries that are not of the novelty tabletop variety.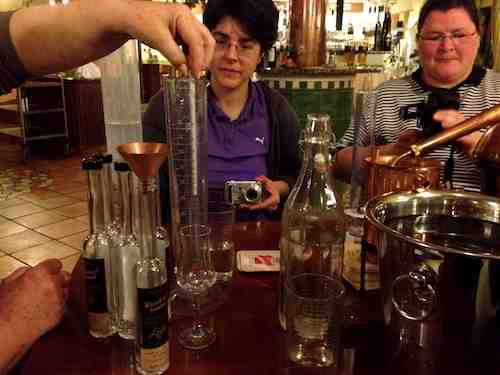 After we had successfully distilled, Frau Lagler diluted our liquid (with the aid of a nifty floating thermometer-like instrument) to the appropriate 40% alcohol. We sampled our creation and then used a little copper funnel to pour it into individual bottles (no easy feat given how much schnaps sampling we had done up to this point in the evening). Our product was declared a success and we were each given a certificate bearing the title Top-Schnapsbrennmeisterin. Obviously I have already added this to my resumé.