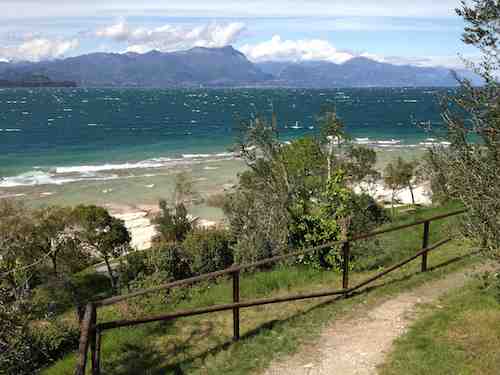 After breakfast in Levico, we drove a quick 1.5 hours down to the southern end of Lake Garda to spend two days in Sirmione. While the northern parts of Gardasee are overrun with German tourists, Sirmione is overrun with a healthy mix of nationalities.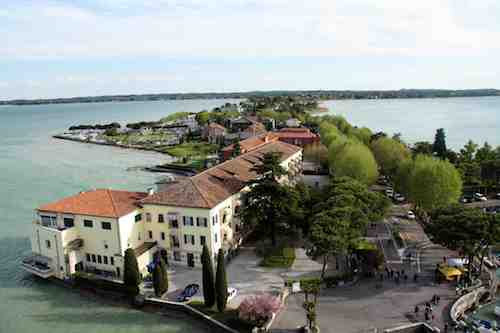 Sirmione is a small medieval town at the tip of a long, skinny peninsula that juts up into the lake. Most cars have to park outside the city walls, but thanks to our hotel's old town location we were allowed the privilege of driving three blocks through a narrow, winding, cobblestoned, tourist-packs lane. I think walking would have been faster, and less stressful.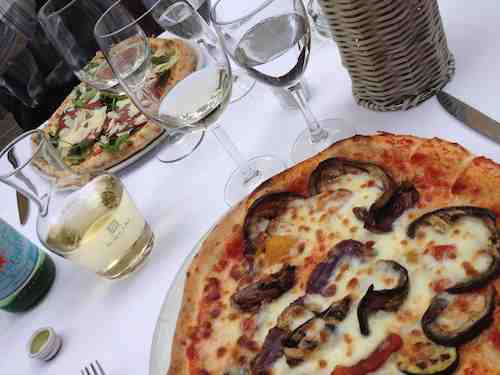 This put us in the mood for pizza and wine, which luckily are easy to find in Italy. La Roccia did the job, offering us a covered outdoor terrace where we could stay dry in the midday rainstorm.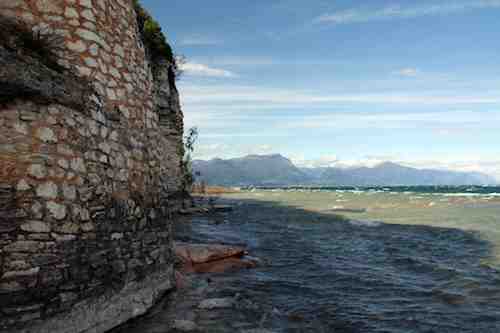 The sun came out after lunch, perfect weather for a stroll out to the tip of the peninsula to visit the Grotte di Catullo, ruins of a palace intermixed with an olive grove.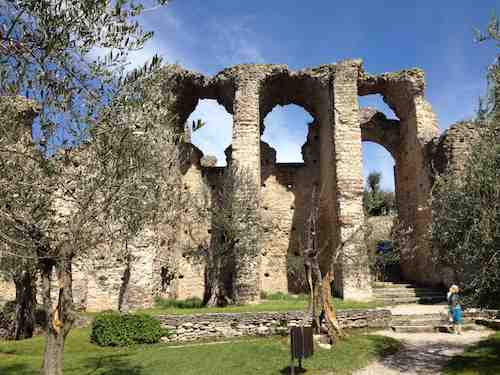 I have to admit, ruins usually don't do much for me. Perhaps it's because most ruins lack this view.
All of a sudden, we realized we had been in Italy for more than 24 hours without eating gelato.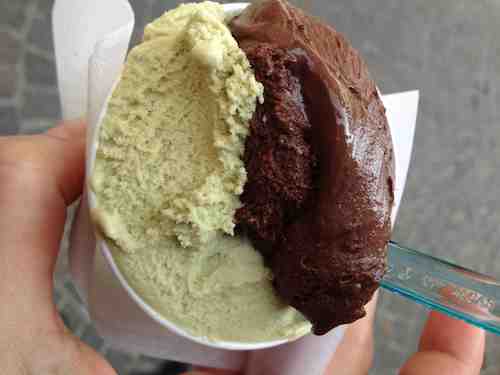 Dark chocolate and pistacchio from Gelateria Mancini (highly recommended) filled this urgent need, leaving us fortified for another half-hour of sightseeing.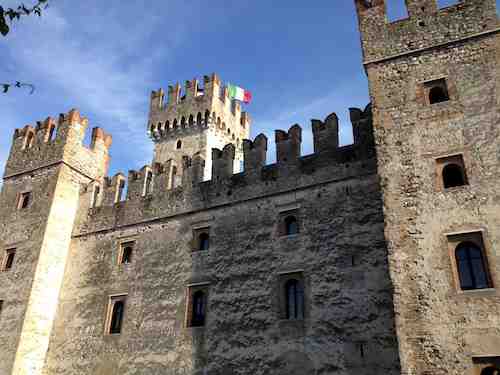 We visited the Rocca Scaligera (the castle guarding the old town), climbing the tower for more sensational views, this time from the other end of town.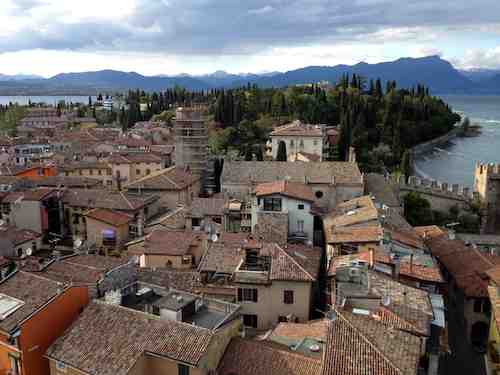 Next stop: an outdoor table at Bar Moderno for some people watching over aperitivi and stuzzichini (the little snacky things served with aperitivi).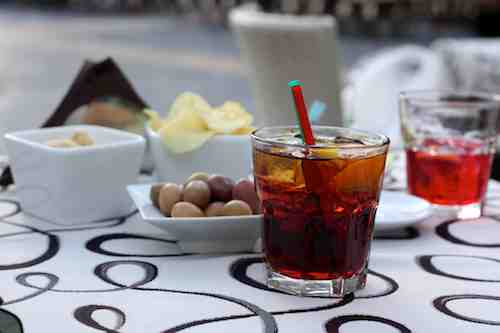 We tried not to nibble too much, as we had much-anticipated reservations at La Rucola, one of the fancier eateries on our itinerary.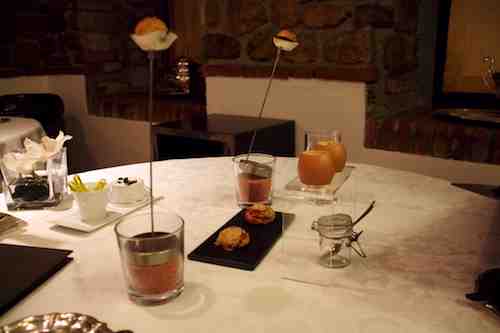 I do love a good dash of haute cuisine now and again. The meal started with greetings from the kitchen such as egg custard served in the shell and flying mini hamburgers.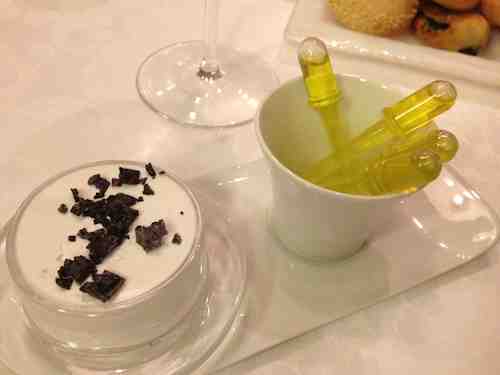 Olive oil came pre-loaded into plastic droppers, ingenius little vehicles for getting it onto bread without making a mess. (I think I'm going to require my parents to start traveling with these.)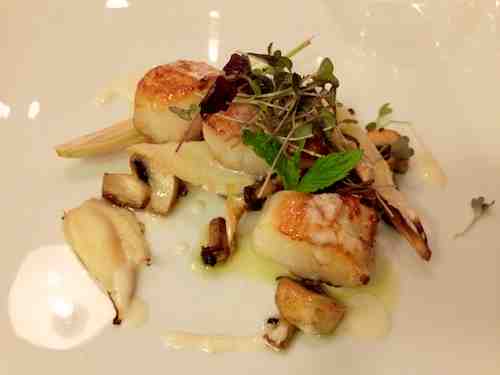 La Rucola specializes in seafood dishes. Scallops with ginger, mushrooms, lemongrass, and potatoes; seabass ravioli in artichoke puree with clams; shrimp with asparagus, cauliflower puree.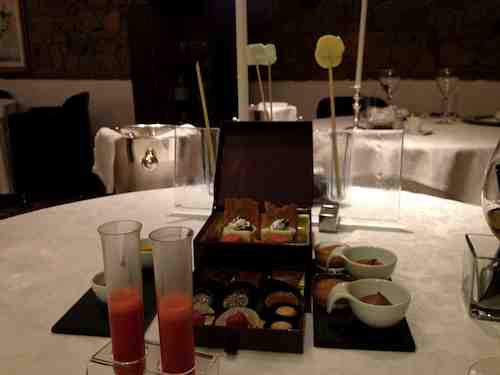 Dessert came accompanied by a jewelry box of delicious things, a ridiculous selection that we felt compelled to sample from extensively. Towering over the scene were handmade lollipops of fudge, licorice marshmallow, and white chocolate. The mini creme brulees were my favorite.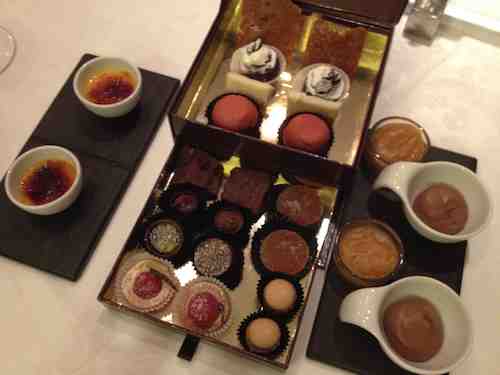 All this reminiscing about food is making me hungry; day two in Sirmione is going to have to wait for another post.