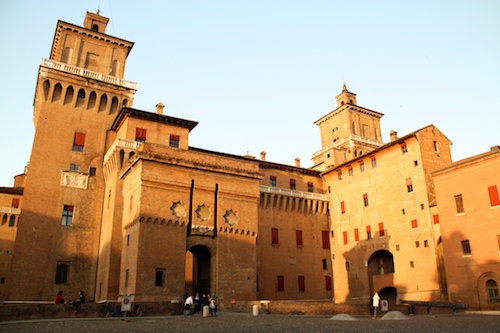 Alrighty, back to the road trip before I forget all the delicious details. When I left off we had just stopped off at the Castello di Torrechiara on our way from Parma to Ferrara.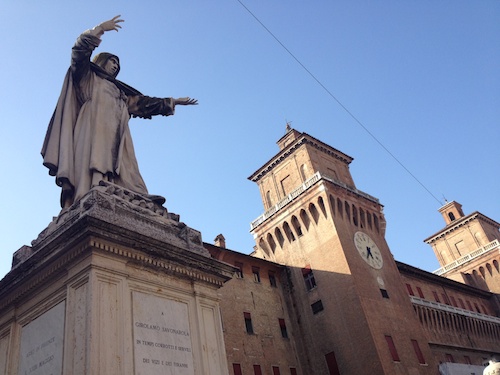 In Ferrara we checked in at Dolcemela, an adorable B&B in the old town. It was a very short walk to all the interesting bits of the city.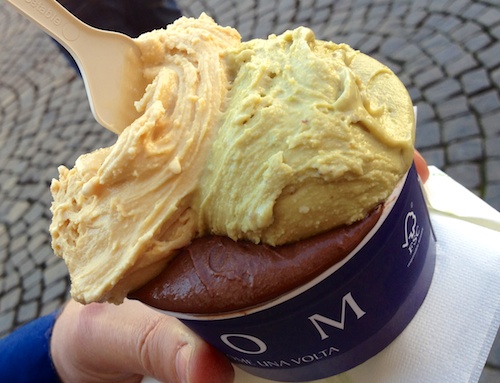 Our first interesting stop was Grom, our favorite gelato chain. Dark chocolate, pistacchio, and salted caramel. Mmmm.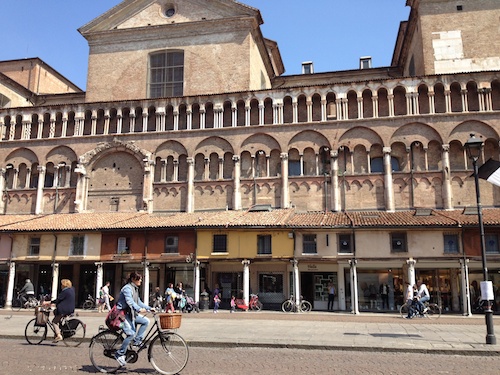 Conveniently, Grom was located right on the main square, across from the adorable porticoes that line the side of the cathedral.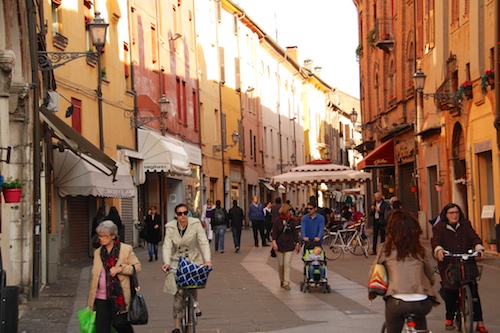 From here there is more adorableness in pretty much any direction you care to wander. Ferrara is made up of narrow, winding, medieval streets lined with brick houses in various states of elegant decay.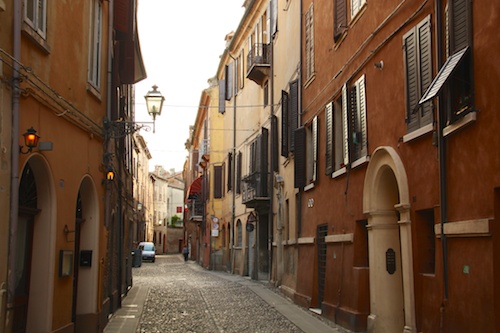 We found some aperitivi and stuzzichini at Duca d'Este on the square in front of the castle and enjoyed a little people watching.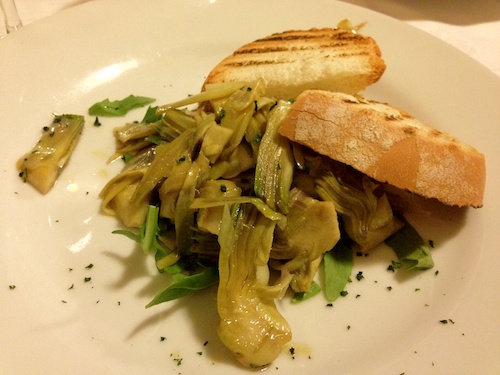 We did some menu-reading during our stroll around town and settled on Osteria del Ghetto for our evening feeding. Run by a cute old couple, the restaurant was decorated with some very wacky art. The food made us very happy: artichoke salad, grilled scamorza and vegetables, orata with fennel, artichokes, and saffron.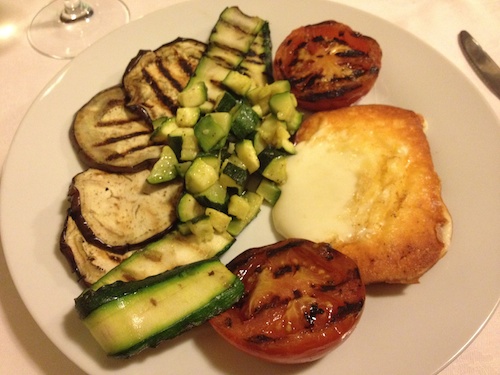 The next morning we took a quick spin around the inside of the cathedral (it's a cathedral) and headed to the Tourist Information office to claim our free city wifi. Internet access laws in Italy were recently relaxed (from the previous no-internet-without-ID), but not everyone's policies have been updated to reflect the change. We forked over copies of our passports and were rewarded with log ins good for access at various hot spots around the city.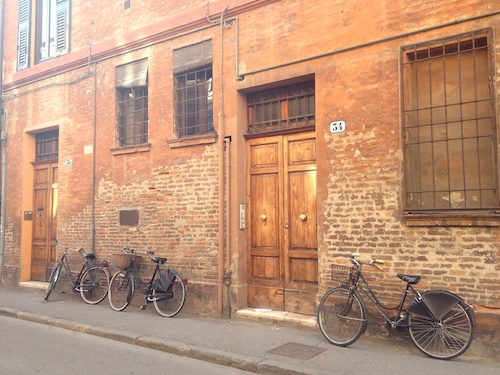 After wandering through an art exhibition in the dungeons of the castle (Ferrara has a wonderful castle right in the center of town), it was time for one of the best times of day in Italy: lunch!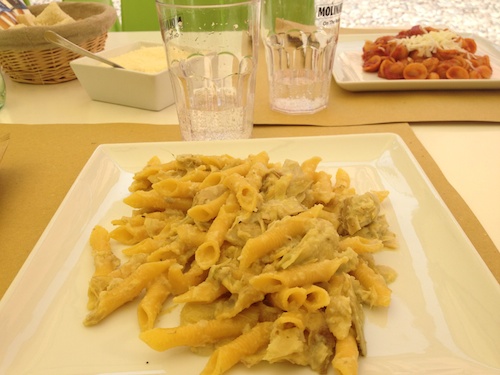 We ate pasta outside at Moda on a pleasant square near the castle. The gargagnoli with artichokes were perfect.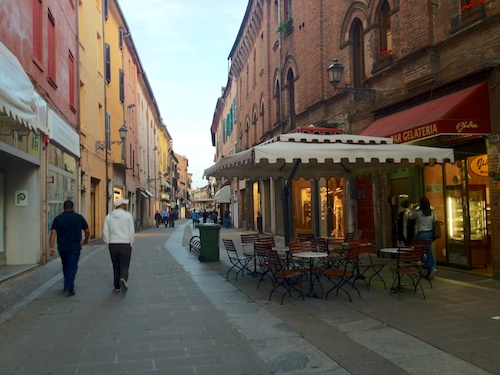 Impending food coma fought off with a tiny espresso shot, we meandered through town to a big exhibition of Sorolla's garden paintings.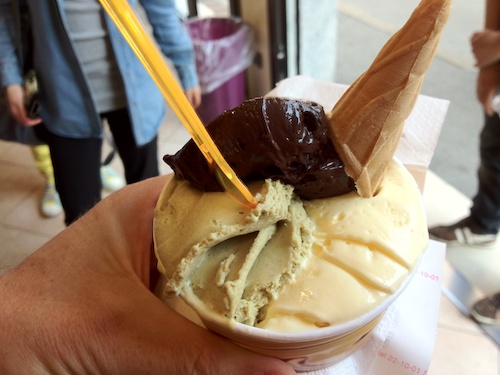 By this point I have decided that Ferrara is my favorite stop on the road trip so far. And this even before we go in to K2 for some of the best gelato in town. The dark chocolate was magnificent.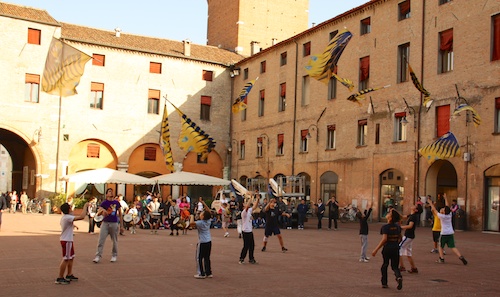 We came across a group of boys practicing a medieval flag-throwing routine.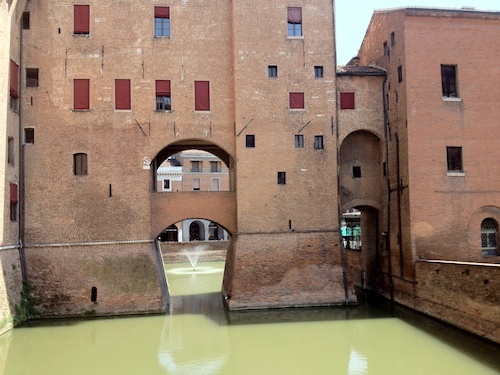 The wine bar Al Brindisi in the little alley behind the cathedral was our aperitivo stop for the evening. The friendly waiter described the wines on offer and brought our selections out with a little stuzzicchini plate of sliced meats, bread, and yummy olive oil.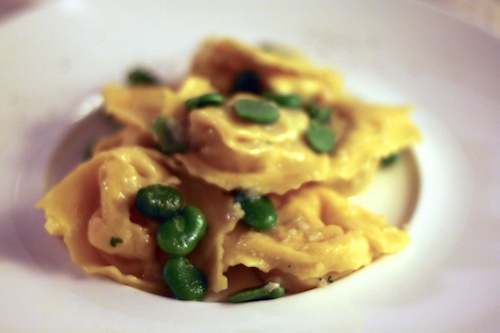 Dinner at L'Oca Giuliva wasn't bad by any means, but it had a hard time distinguishing itself given how wonderful all our other meals in Ferrara were. The pear ravioli with broad beans and cheese sauce were the stand-out dish of the evening.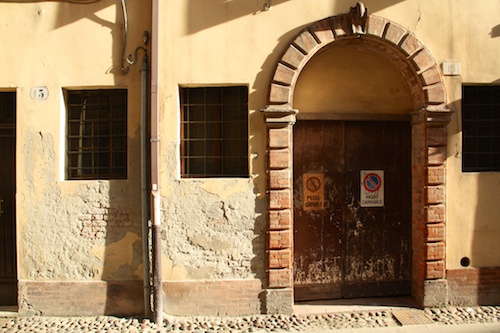 We had intended to get on the road again early the next morning, but we had a hard time tearing ourselves away from Ferrara. We went out for a morning stroll, had some breakfast gelato (grapefruit and blood orange sorbet) at Grom, and reveled in the city's adorableness one last time.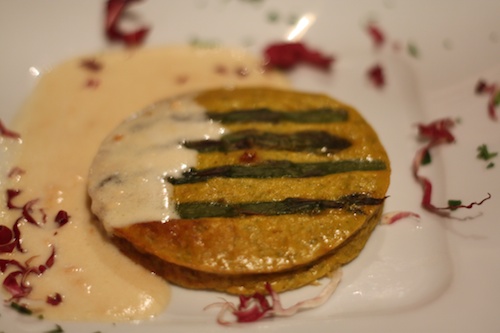 And then the most wonderful thing happened – we stumbled upon a restaurant we had missed on all our previous wanderings, a restaurant whose menu looked too good to pass up. Lunch at Da Noemi was a feast of asparagus flan, fried zucchini flowers stuffed with mozzarella, spinach tortelli with gorgonzola and walnuts, and grilled tomino and vegetables, topped off with some gorgeous strawberries with whipped cream.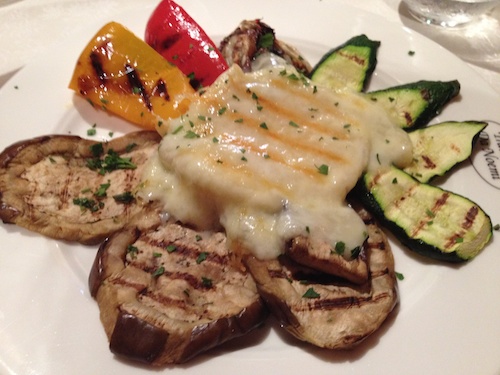 We were finally ready to say goodbye to Ferrara. Next stop, Bassano del Grappa.