Heading into our fifth (and final) Oktoberfest as locals, I'm starting to feel like quite the reluctant expert. Although I've had tons of fun at the festival each year, I've also had a couple of panic attacks (and more than a couple near-panic-attacks) at the wiesn. I absolutely hate crowds. With more than 7 million people attending Oktoberfest each year, it can be kind of tricky to avoid them. Over time I've learned how avoid the parts I hate, and enjoy the parts I like. 
Timing – Oktoberfest is at its crowdedest on weekdays starting around 6pm, and all day Saturday and Sunday. I try to avoid going during the crowded times unless I have a table reservation. I also avoid going on hot days – the tents are boiling.
Balconies & benches with backs – Tables are packed mighty close together the in the tents. Chances are you'll have a bunch of sweaty drunk people bumping you from all sides, even when you're sitting down; the middle of the tent is usually the worst for this. Try to seek out the rare tables that have backs on the benches, keeping you delightfully isolated from the people behind you. The Käfer tent and Weinzelt (the two fanciest/priciest tents) have backs on almost all the seats. All the other tents have sections with backs on them; often these are reserved but during off-peak times you could easily find them available.
Balconies are often nice for watching the craziness from a safe distance. They are reserved VIP areas in some of the tents, but in others (Ochsenbraterei and Weinzelt, for example) they are open to the public.
Small tents & wießbier stands – Sometimes it's nice to avoid the mobs in the big tents all together. The small tents are usually less crowded than the larger ones.
Don't bring stuff - Carry as little with you as you can, so you're not constantly worried about where your jacket or backpack ended up. Personal space is minimal at Oktoberfest, so keep yours clutter-free  by leaving all but the bare essentials (money, phone, tram pass, etc.) at home.
Breakfast at the wiesn – The fairgrounds take on a whole different feeling on a weekday morning. It's fun to watch things get going. Grab some coffee and a pretzel and enjoy breakfast at one of the many outdoor food stands. Most stands and tents open at 10am on weekdays.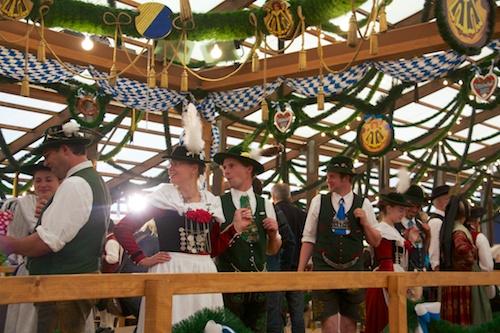 Oide Wiesn – the historical section requires an entry fee, but it's worth it to be in this less-crowded area. The biergarten is nicer than the outdoor areas on the big tents, too. [Edited to add: Oops, no Oide Wiesn this year. But who knows, it might come back next year.]
S-bahn – If you're headed to the wiesn during peak times, the last couple stops on the U-bahn to Theriesienwiese or Goetheplatz can be claustrophobic nightmares. Instead take the S-bahn to Hackerbrücke and follow the crowd to the main entrance of the fairgrounds.
And finally, know you can leave at any time – Oktoberfest is supposed to be fun. If you're not feeling it, head somewhere else. Carry a map of the fairgrounds so you can plot your escape to the nearest exit whenever you start feeling like you'd like to flee, and give yourself permission to do it. Sometimes the idea that I can take off at any moment is enough to help me relax and actually enjoy myself. Us agoraphobic introverts can be funny that way.
Just a week and a half to go before Oktoberfest. I'm actually looking forward to it.
Will you be in Munich for Oktoberfest 2012? Come see my show!