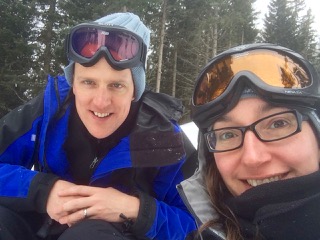 This blog is written by Julie and Scott, an American expat couple currently living in Edinburgh, Scotland, having moved here after 5 years in Munich, Germany. We have lived in various parts of Europe (Italy, Switzerland, Germany, and the UK) for over ten years now and we travel as much as we can. This blog covers our travels, our impressions of life in Europe, our love of food & drink, and whatever else catches our interest.
2013 was a roller coaster of a year for us. It started out with a much-anticipated move from Munich to Edinburgh. This was followed by a month in Tokyo, where Julie was an artist-in-residence. Then just as we were back and settling into life in Scotland, Scott was suddenly diagnosed with leukemia. He is currently in remission, and we are doing our best to make the most of our life in this wonderful city we now call home. UPDATE: As of mid-2016, the leukemia is back.
Julie also writes an art blog, Flogging the Muse. You can see her paintings on her art website.
Scott is mostly behind the scenes on this blog. He takes a lot of the photos that appear here, plus he does most of the technical stuff. Occasionally he authors posts, too. He also writes an insanely geeky blog called Constrained Random.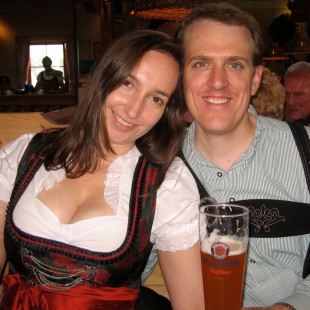 Your questions and comments are most welcome. We love hearing from our readers. If you'd like to contact us directly, you can email us. We try to answer all personal emails, but we tend to ignore form letters, especially those from people who want us to publicize their crappy travel websites for free. We do occasionally like to work with PR folks from interesting travel destinations and companies, so feel free to get in touch. Julie also does freelance travel writing for other websites.
We occasionally feature posts by guest writers and other bloggers. These feature personal expat and travel stories that we find interesting (and think our readers will, too). We're not interested in guest posts from commercial sites.
We are @zurika on Twitter.
This blog was originally called This non-American Life, as an homage to the venerable Ira Glass and his radio show This American Life. Somewhere along the way we decided that the name needed tweaking, and This International Life was born.
Want to keep up with our latest blog posts? Subscribe to This International Life by email