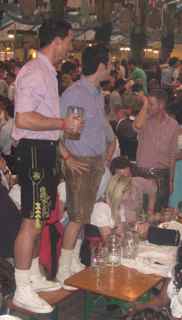 I'm searching for an outfit for Oktoberfest this coming September, and I was wondering if you could point me in the right direction. Should I even dress up? I don't want to offend anyone. If it is cool to wear an outfit, where do you recommend I get one? Is it stupid for me to get one of those cheap Halloween ones? All my friends are going to dress up; I wanted to at least attempt to get an outfit, but legit lederhosen cost more than I want to spend. Any help would be appreciated. Also, can you recommend any tents or easier ways to get into tents?
-Brian C.
Oktoberfest without dressing up is like a Halloween party without a costume: it's still a lot of fun, but the right outfit can make it even better. I'd say at least half of Oktoberfest attendees show up in tracht (dirdls or lederhosen) these days, locals and foreigners alike. I'd definitely encourage you to dress up if you can find a way to do it without cutting into your beer budget (and Oktoberfest beer ain't cheap). So what are your options?
Women have it easier: an Oktoberfest-ready dirndl can be picked up on ebay for $50 or less (but please stay away from the mini-dress catastrophes on Amazon
), and they look just fine. There are also some good deals to be found these days in the many tracht stores along Tal, in the center of Munich.
As for which tents I recommend, it depends on what you're looking for. All the big tents have more in common than they do differences – big beers, long benches, cheesy music, buxom waitresses – but they all have slightly different personalities. I suggest showing up early on a weekday (when you can still wander into all of the tents) and checking out several of them.  The Hacker tent, Ochsenbraterei, and Schützen Festzelt are all solid choices. The Hofbräu tent has a frat party vibe, and seems to have the highest foreigners-to-Germans ratio. The Weinzelt has wine and fancy food; the Käfer tent has really fancy food and low ceilings. The Hippodrom is where the celebrities hang out, perhaps because they are attracted to colorful streamers.
As far as getting into tents, my main advice is this: go early, and find yourself an unreserved table to park at for the day. On weekends you have to arrive when the tents open if you want a chance of getting a table for the day (although sometimes the tents open back up in the late evening). On weekdays you can usually walk in and out of tents freely until late afternoon, when they all fill up. Since this year is the 200th anniversary of Oktoberfest, it will probably be more crowded than in years past. You also might want to check out my advice for first-time Oktoberfest visitors.
Hey readers: anyone have any great tips on where to get decent-looking lederhosen on the cheap? Please share!
—
Ask the Expat is an occasional feature here at This non-American Life. If you have a question for me, go to this post to find out how to submit it.