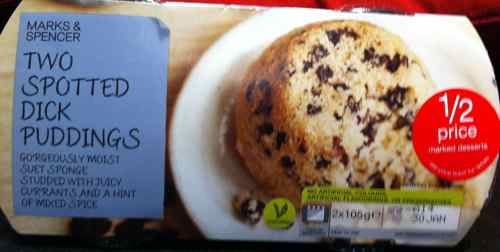 When one has a sense of humor such as mine, one cannot simply walk by a display such as this. No, one must acquire said item, try it, and blog about it for posterity. Especially when it's half off, by golly. I mean, could you resist cheap spotted dick?
Spotted dick is one of those crazy British things I had heard of, but never actually encountered in person. But what is spotted dick? According to the packaging, it's "gorgeously moist suet sponge studded with juicy currants and a hint of mixed spice." Sounds like something you might actually want to put in your mouth, no?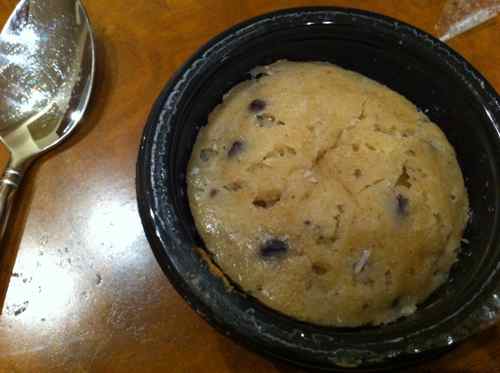 I figured eating spotted dick would be more fun with a companion, so I enlisted the assistance of my husband. Neither of us was quite sure about it, so we decided to share one spotted dick between us (I actually have photos of us eating the dick, but I thought they might be a little too scandalous for the internet). We popped one open.
Verdict: meh. I didn't expect spotted dick to become my new favorite thing, but I honestly expected it to be better than dry cake with bits of fruit in it. The container got tossed in the bin after just a few bites each.
I went to throw the second spotted dick away today. Before I did, I took another look at the package. As it turns out, spotted dick comes with directions, directions which we had not followed. Spotted dick is supposed to be eaten warm. I decided to give dick another chance.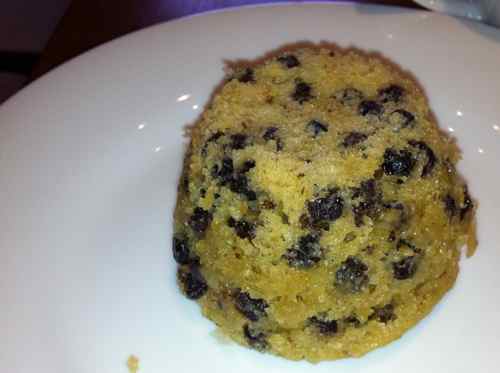 The warm spotted dick was much moister (I guess all the liquid was in the bottom), and the mouthfeel was much improved. But still, it was just some rather plain cake with bits of dried fruit in it, not exactly an interesting dessert to me. Maybe I would have liked it better without the spots.
In (the) future, I'll be able to resist spotted dick.
What about you? Any thoughts on spotted dick?