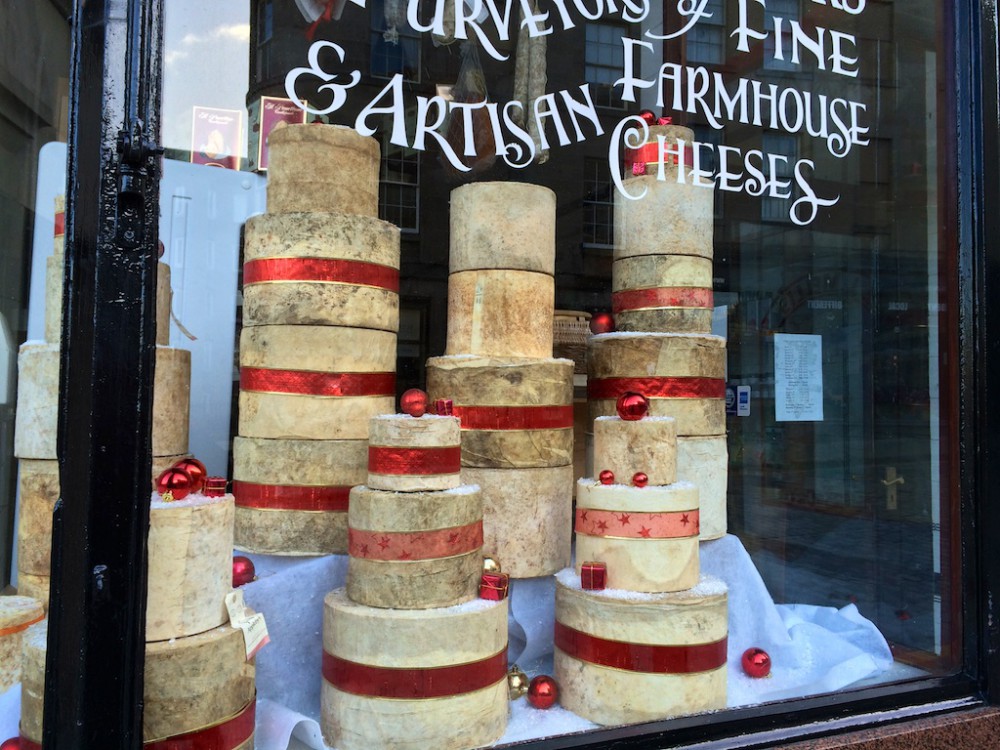 This year of doctors and hospitals has distracted us from all the fun that is usually involved in one's first year as an expat in a new country. Years have various flows in different cultures, with different events and celebrations punctuating the passage of time. Now that Scott is healthy and about to return to work, we were able to exhale and look around us and enjoy our first Christmas in the UK. 
BBC has taught us (we do most of our in-depth cultural research by watching telly) that Brits love a festive holiday drink or twelve. Always the conscientious assimilators, we've been experimenting with holiday tipples. One of our favorite new discoveries is The King's Ginger
, a ginger liqueur that mixes well with whisky (also good: 1 part King's Ginger, 1 part gin, 1 part lemon juice, shaken with ice and served in a martini glass).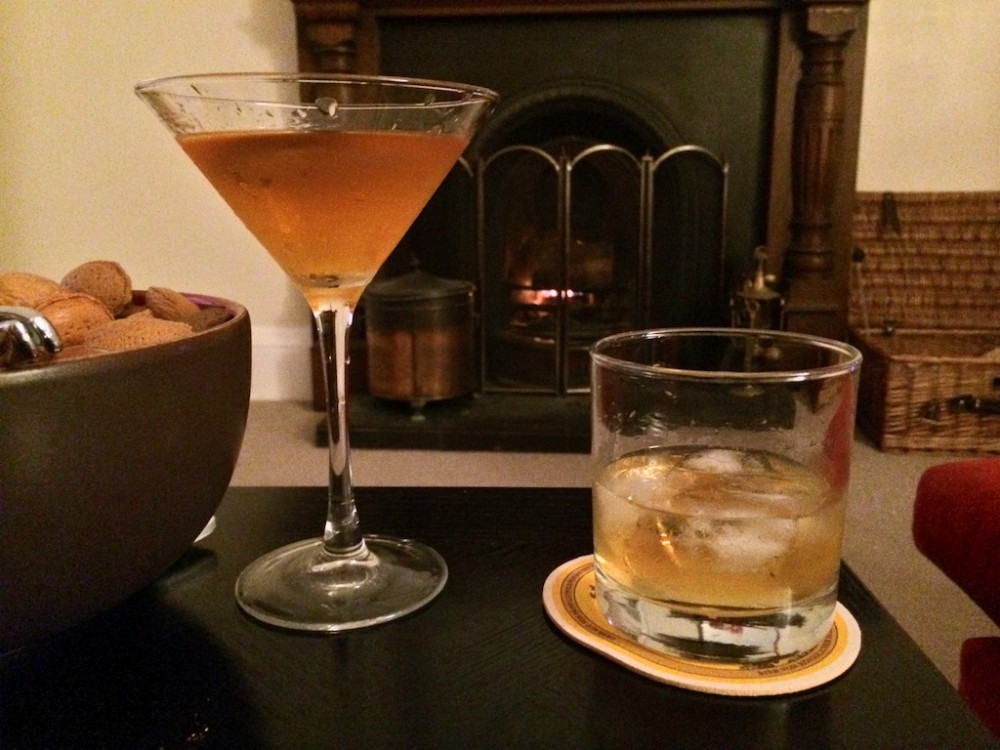 We've learned that brandy is an essential part of a British Christmas, so we've added a bottle of that to our bar. In addition to being a beverage, brandy is apparently an essential ingredient in many Christmassy British foods, such as brandy butter. Also, it is poured over the Christmas pudding and lit on fire.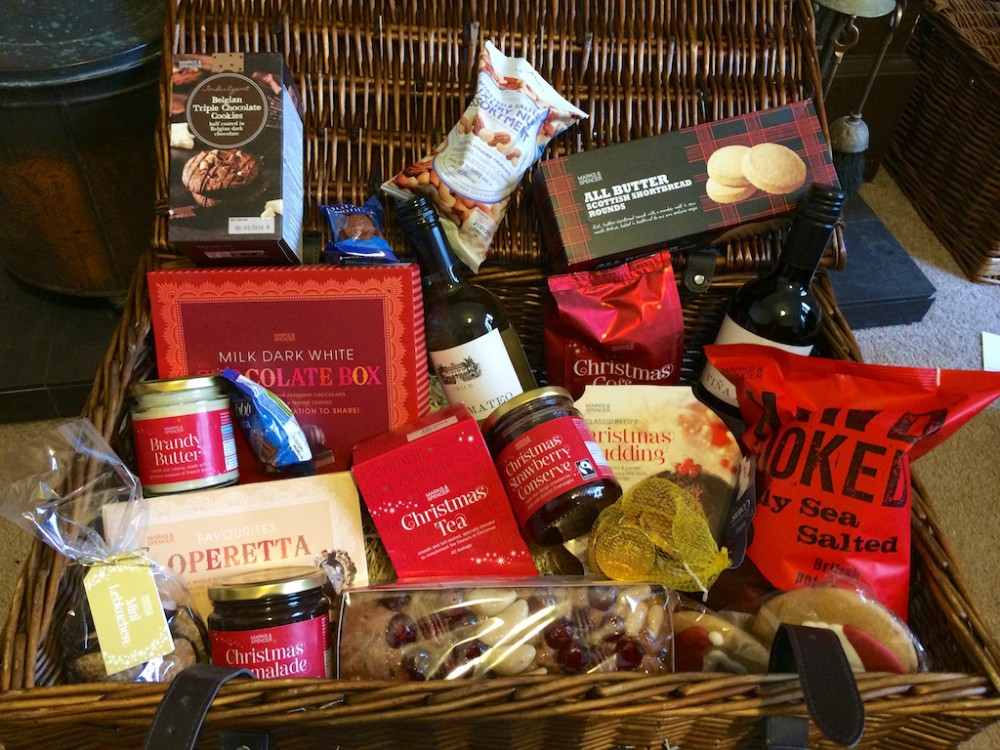 Scott's company has introduced us to another delightful part of British Christmas: the Christmas hamper. Thankfully not filled with dirty clothes, but rather piled high with Christmassy food and drink. Ours came with more desserts than the two of us could eat in a year, including a Christmas pudding. Not actually what Americans would consider a pudding (don't get me started on the wanton ways that word is used on this island), it seems to be more like a warm fruit cake. We brought it to Finland with us to eat on New Year's Eve. Verdict to come.
We spent a low-key Christmas at home eating, drinking, and sitting by the fire. On Christmas Eve we had fondue, a tradition we started when we lived in Zurich. The fondue was originally planned for Christmas Day, but then we realized we might not be able to buy bread on Christmas Day, since most of the stores in our neighborhood would be closed. (As I type this, I'm thinking: what kind of fancy Europeans do we think we are, refusing to eat bread that wasn't baked the same day? I hope the US doesn't revoke our passports over this.)
We couldn't resist watching the Downton Abbey Christmas special, which airs on Christmas Day in the UK. We're a whole season ahead of those of you in the US, which made for some fun opportunities to drop pretend spoilers on our trip to New York a couple weeks ago. "So you haven't seen the one where Matthew's death was revealed to be all just a dream? And what about the one where Lord Grantham's love child with Mrs. Patmore comes back?" We added some American Christmas programs to our yuletide TV line-up, too, namely Emmet Otter's Jug-Band Christmas
 and Mr. Hankey's Christmas Classics
. We have broad tastes in Christmas viewing.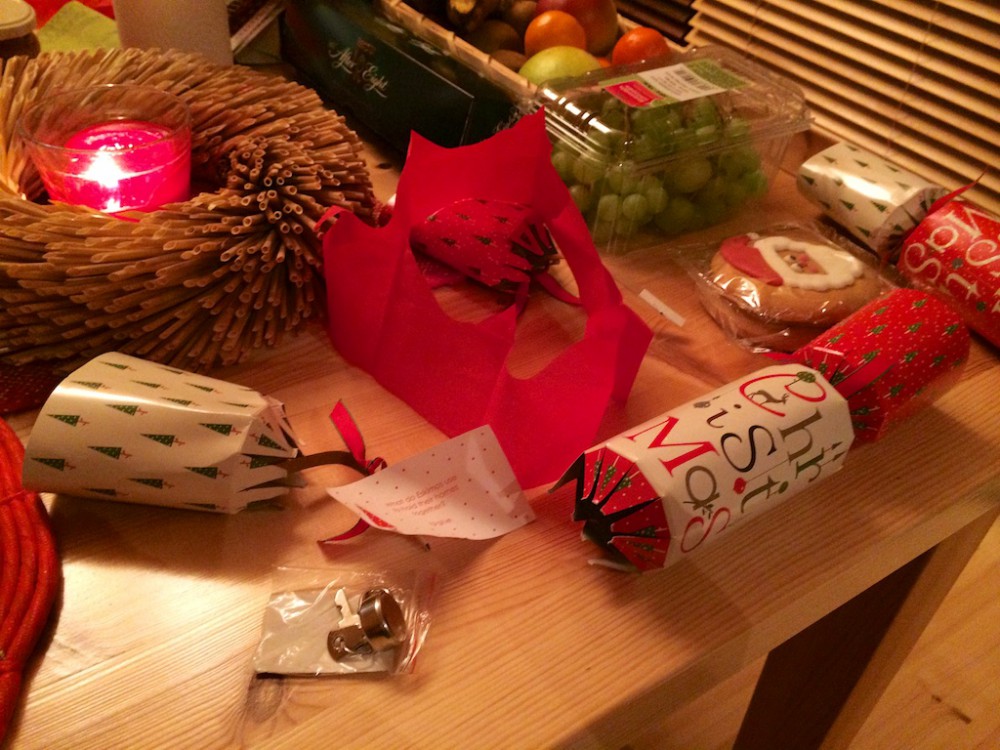 Our Christmas hamper came with a box of Christmas crackers
, another essential part of a proper British Christmas. After popping them open, we were rewarded with paper crowns, jokes, and little toys. Happy first UK Christmas to us.